IBEW LEESBURG VOICE

Dear City of Leesburg Employee,
We would like to take the time to introduce ourselves to you. We are IBEW Local Union 108 located in Tampa, FL. Our office personnel are Business Manager Doug Bowden, Assistant Business Manager Robert Thomas, Assistant Business Manager Chris Parsels, Office Manager Jennifer Parra, and assisting in this campaign is IBEW International Lead Organizer Kathy Smith.
---
IBEW LU 108 has been established since March 1, 1900. We currently represent over 1100 employees in 14 different contracts which include, Electric, Gas, Water, Utilities, Truck Drivers, Broadcasting, and Manufacturing. Recently several of your co-workers reached out to IBEW LU 108 with a desire to become Union. We are having meetings in an effort to educate as many of you as possible on the Election process and what it means to be a covered employee.
---
To get to an Election, we need to be able to show that there is a majority interest from the employees. We are currently in the process of having employees sign "Authorization for Representation cards". Please click on the following link and fill your representation card out. "Authorization for Representation".
Feel free to contact IBEW LU 108 Assistant Business Manager Robert Thomas 813 621-2418/ rthomas@ibew108.org or IBEW Lead Organizer Kathy A. Smith 727 542-0212/ kathy_smith@ibew.org.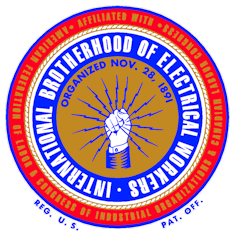 ---
Page Last Updated: Jun 23, 2017 (08:32:00)